I've always thought a waterfire saga movie (or tv show) would be awesome! I made a collage of who I would want to play the main six girls if there was a movie.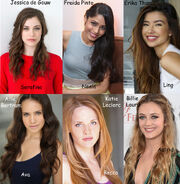 I did some editing on Billie & Allie's eyes, to see what they would look like as the characters.
Who do you think could play Sera and her friends?
P.S. Thank you Anonymous for helping me!